As a company that strives to be a responsible corporate leader, social responsibility is fundamental to Grande®'s culture and core values. Being a principle we believe in and embrace, social responsibility reflects in the commitments we make to our Associates, Producers, customers, and communities. Throughout this 4-part blog series, we'll give you an inside look at the steps Grande is taking to help positively impact the world around us!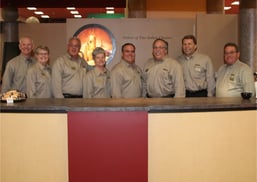 With Part 1 of our blog series focusing on Grande's business sustainability, it's time we took a look at the people who are essential to building our world-class dairy products trademark - our Associates. After all, it's our Associates who breathe life into the message and values of our Mission Statement, and because of this, it's our responsibility to improve their overall wellbeing.
Health & Wellness Strategy
With health insurance costs continuing to rise steadily, we are more committed to creating and promoting a healthier workplace than ever before. As we strive to offer our Associates affordable health insurance with good coverage, Grande is dedicated to preventing major health issues, educating Associates about the importance of a healthy lifestyle, and creating a network of support for them.
In addition to offering fitness equipment/classes and concierge care at our own Health and Wellness Centers, all Associates, spouses, domestic partners, and older dependent children, also have access to on-site Nurse Practitioners that offer:
Immunizations
Medication management
Physical exams
Preventive exams
Management of chronic diseases
Lab services
And more!
Safety
When it comes to protecting the health of our Associates, safety is a top priority at Grande. To reinforce this, we've implemented a Safety Management System (SMS) that helps provide an outline for the implementation of safety processes, as well as a uniform approach to safety in accordance with our best practices. When we meet our safety goals and milestones (i.e. 1,000,000 hours without a lost time incident), they are recognized with celebrations at our facilities, which help encourage and remind Associates about the importance of minimizing all potential chances for injury.
Training & Development
Grande offers its Associates many opportunities to sharpen their skills and continue their education in an effort to advance their careers. In order to help create the next generation of leaders, we partner with a number of organizations to offer training programs for Associates, including Microsoft computer skills courses, six sigma, maintenance training programs, and basic to advanced leadership courses. In addition, in an effort to help lower the financial burden associated with furthering their education, Grande also provides financial support to Associates that decide to pursue additional degree programs.
Diversity & Inclusion
We believe every Associate has the right to be respected as an individual and treated fairly. We work hard to provide a safe work and learning environment in which all Associates feel comfortable and thrive, regardless of race, religion, or gender.
Recognition & Engagement
One of the most important aspects of treating your employees well is making sure that they feel valued and informed. At Grande, we believe that keeping Associates engaged and "in-the-know" helps create more employee loyalty, as well make them more customer-focused. In order to accomplish this, our management teams focus on three areas:
Communicating the expectations placed on Associates
Making sure Associates have the necessary materials, equipment, and knowledge to perform
Giving Associates the opportunity to do their best every day
As a result, our Associates' goals start to align with the company's, and sense of pride and accountability created.
Looking at the different ways we treat our Associates, you'll notice that Grande truly values its employees. Not only do we offer a wide range of useful health and wellness resources, we also work around the clock to make sure all Associates feel safe, equal, and appreciated. In doing this, we're proud to be known as an employer of choice in each of the communities where we operate.