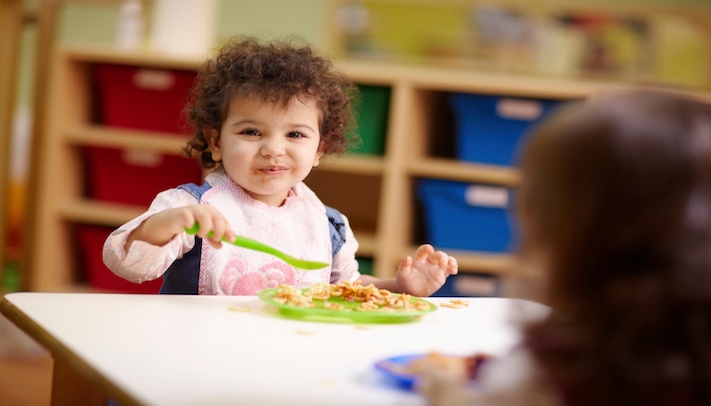 Just as the USDA increased the nutrition standards for school meals for grades K-12 at the beginning of the 2012-2013 school year, they've recently proposed a rule to improve the nutritional standards of meals provided through their Child and Adult Care Food Program (CACFP). With over 3 million children receiving meals from the CACFP at daycares each day, the proposed meal patterns will ensure meals served to children in daycare will include a greater variety of fruits and vegetables, more whole grains, and less sugar and fat – similar standards as K-12 meals. This proposal is the first major update of the CACFP meal patterns since the program started in 1968, with the changes proposed in an attempt to solve the current child obesity crisis.
"With over one in five children under the age of five being overweight or obese, the proposed improvements to the CACFP meal patterns will help safeguard the health of children early in their lives," Agriculture Undersecretary Kevin Concannon said. "Providing children access to nutritious food early in life helps instill healthy habits that can serve as a foundation for a lifetime of healthy choices."
Using Whey Protein to Formulate Healthier Meals
One way daycares can start providing more nutritious meals is by using higher-quality ingredients – such as natural whey protein products – to enhance the meals they offer to children. While there are many different protein sources food manufacturers can choose from, nothing beats the nutritional quality, taste, and texture of whey protein. Looking at the protein comparison chart below, for example, it's easy to see that no alternative protein source comes close to whey's quality, and its clean, neutral taste can be formulated to fit specific flavor and texture profiles (i.e. creamy, sweet, savory, etc.).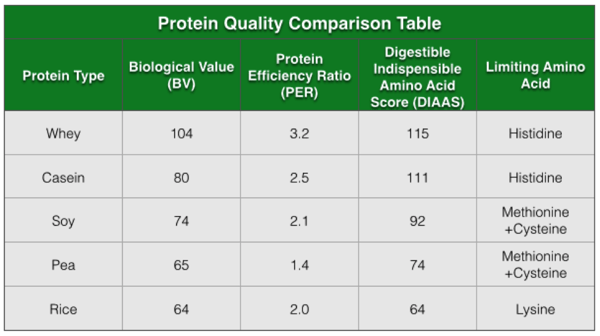 Food manufacturers can use whey protein ingredients to create lower-fat, lower-calorie meal options that taste and look the same as their standard, higher-calorie alternatives. In fact, Grande Custom Ingredients Group offers several solutions for a variety of applications that can be used to help improve daycare meal quality:
Grande Bravo® Functional Whey Protein
This functional whey protein concentrate is the perfect replacement for high-fat, high-cost dairy ingredients, and it blends so well that children won't be able to tell they're eating a low-fat version of your product. Rather than creating a one-size-fits-all concentrate, we created different flavor profiles to better match your original product's taste and texture. To learn more about how Bravo can help you create lower-cost, lower-fat dressings, sauces, dips, and desserts, click here.
Grande Primo™ Dried Yogurt & Cultured Dairy Products
If you're trying to add that distinct yogurt taste and texture without the perishability hassles of fresh yogurt, Grande Primo can give your food the creamy mouthfeel and slightly tart flavor kids love. To learn how our yogurt products can enhance your dips, dressings, coatings, and smoothies, click here.
Grande Ultra® Whey Protein Isolate (WPI)
Our specially produced isolate is an industry leader in taste and turbidity. This allows you to create a drink that's fortified with protein, while achieving a clean, neutral flavor with the best clarity available over a wide pH range. To learn more about how Ultra can help add a protein boost to your fruit drink, juice, or sport drink, click here.
Grande WPCrisp® Whey Protein Crisp
If you're looking for an ingredient that will add both protein and crunch to your cereals, snack bars and other products, make sure you check out our whey protein crisps. To learn how WPCrisp can add a crunchy protein boost to your snack mixes, snack bars, and cereals, click here.
Whether you want to create a low-fat creamy sauce, a low-fat, yogurty veggie dip, or anything in between, Grande Custom Ingredients Group offers several high-quality solutions that can help improve the nutrition of meals offered at daycares, while also lowering your costs. To learn more about how our whey protein products can help solve your specific application challenges, check out our applications page or talk to one of our food scientists today!