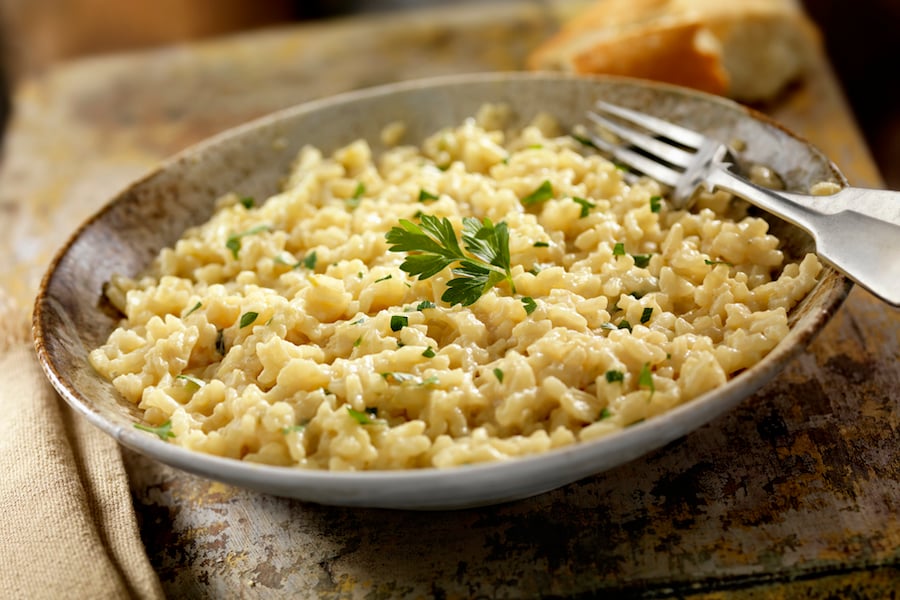 Formulators of cheese sauce applications often struggle to find the balance between reducing sodium and maintaining creamy textures and flavor. This is especially true for applications that use dried cheese powders which already come with inherent textural challenges.
Examples of such powdered cheese applications might include ready-to-mix macaroni and cheese, cheese sauces and dips, frozen entrees and stove-top meal kits.
No matter the application, formulating cheese powders that achieve a velvety texture and authentic flavor when prepared is a major challenge that must be overcome. When formulators attempt to reduce sodium, the challenges mount.
A Rising Demand for Low-Sodium Products
American consumers have a love-hate relationship with salt. Most eat an average of 3,400 mg of sodium every day. That's 50% more than the 2,300 mg recommended by the U.S. Food & Drug Administration dietary guidelines.
Understanding its health benefits, many consumers want to pursue a reduced-sodium diet. Yet, the lack of flavor and creamy texture in many products touted as low sodium often leads to a low repurchase rate. Ingredient manufacturers that can appeal to consumer demands for taste, texture and nutrition can participate in the projected 8.4% CAGR growth in the North America Sodium Reduction Ingredient Market (2020-2025).
RELATED GUIDE: Understanding Increased Demand for Reduced Sodium
The Role of Sodium in Powdered Cheese Sauces
One of the biggest challenges formulators need to overcome is loss of structure or pooling of liquids in cheese sauces when heated. Ingredients that help minimize this issue include gums, starches, sodium tripolyphosphate, sodium citrate, sodium phosphates and other emulsifiers and preservatives commonly used in powdered cheese sauces.
Sodium and sodium phosphates are stabilizers that help hold tightly knit proteins together and reduce fat loss which can lead to syneresis and coagulation. The lengthy ingredient list for a powdered cheese sauce application hints at the lengths formulators go to when attempting to overcome these challenges, providing a lesson in chemistry.
Understandably, attempts to remove a portion of sodium or emulsifiers from a cheese powder's ingredient list results in loss of protein structure, requiring extensive reformulation efforts. Of course, reducing sodium also reduces flavor.
Innovations in Cheese Powder Market Address Challenges
Previous attempts to reduce sodium in powdered cheese relied on using potassium phosphates, sodium phosphates, sodium citrate and other alternatives. Unlike plain old salt (sodium chloride), they often have sour or bitter notes that need to be masked with other flavors…and the ingredient list grows.
All-natural Grande Gusto® 200, introduced by Grande Custom Ingredients Group, is a new innovation in the cheese powder industry. It replaces up to 30% of cheese powder and reduces sodium by as much as 15% without off flavors or the textural issues common in most alternatives. The ingredient is easily incorporated into existing food systems and requires minimal reformulation efforts.
An independent sensory panel scored macaroni and cheese made with Grande Gusto higher than the control for salty flavor, creamy mouthfeel and aroma despite it having lower sodium levels. Its signature dairy flavor and functionality are a result of the proprietary processes used to produce the ingredient and its inherent origins from the cheesemaking process. As a reduced lactose whey ingredient, it is a clean label ingredient which is an important consideration among consumers.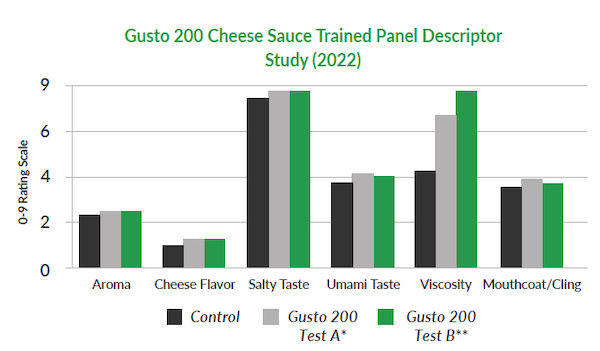 *Gusto 200 Test A – Gusto partially replaced cheese powder
**Gusto 200 Test B – Gusto partially replaced an inert component; cheese powder held constant
An added bonus for formulators is Grande Gusto's ability to optimize costs and its reliable supply chain. Contact our team of food scientists. They work closely with R&D departments and formulators to tackle their toughest formulation challenges.