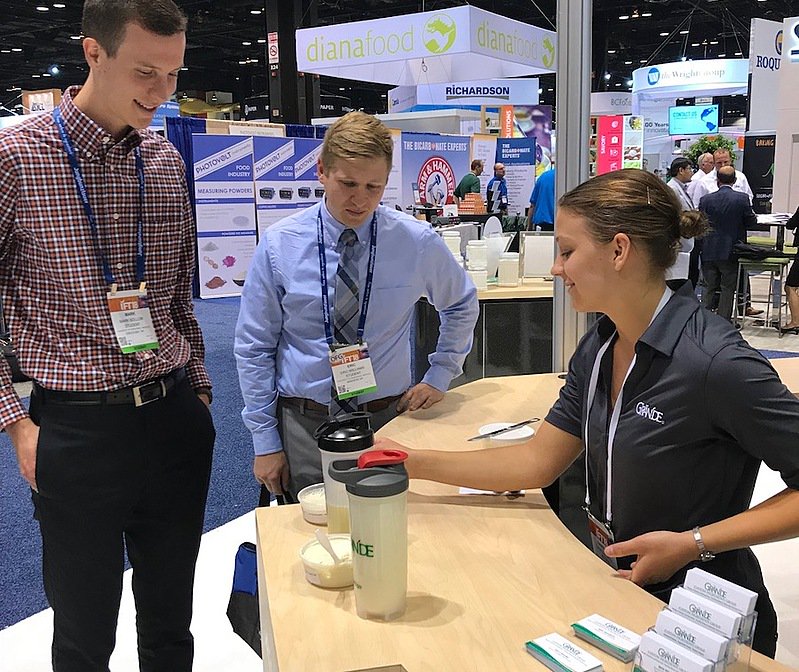 The Institute of Food Technologists (IFT) will hold its annual IFT FIRST: Event and Expo taking place July 10-13, 2022, in Chicago's McCormick Place. In-person events and exhibits are returning! Virtual sessions will also be held.
IFT FIRST stands for "Food Improved by Research, Science and Technology." The annual B2B food innovation expo is the largest of its kind with more than 700 exhibitors. Grande Custom Ingredients Group will be among them, stationed at booth #S3632.
At its core, the event helps inspire future food innovations by connecting science and business to address complex challenges in the food science community. Food technologists, R&D professionals, equipment manufacturers, ingredient suppliers, buyers, policymakers, scientists and innovators in the food and beverage industry will all be there.
Participants can enjoy networking opportunities, product booths, social connections, scientific sessions and much more.
Featured educational sessions include:
Should We Eat More Processed Foods? (Keynote Panelist Discussion)
Labeling Requirements and Implications for Foods Marketed in the U.S.

How Do We Define Sustainability?

Food Safety: Improving Outbreak Response

Innovation Lab: Let's Play with Proteins!

And many more!
Don't Miss the Food Expo!
While we all made the best of virtual experiences over the last couple of years, there's one thing that just isn't the same without being there: the flavors and aromas of countless food samples at the IFT FIRST: Annual Event and Expo can only be experienced in person!
Be sure to visit the Grande Custom Ingredients Group booth #S3632 where we'll answer questions on how to overcome your toughest formulation challenges. And, of course, you can taste test delicious samples incorporating our functional and nutritious whey protein products.
Food Samples Featured at IFT Booth S3632 include:
Queso Dip with Chips | GUSTO 100 | Velvety Texture, Enhanced Flavor & Reduced Fat and Sodium
Cheesy Potato Soup | GUSTO 200 | Creamy Texture, Enhanced Flavor & Lower Sodium
Beef & Chicken Meatballs | FESTO | Juicy Texture & Rich, Umami Flavor
Beet Pana Cotta | BRAVO | Silky, Creamy Texture & Milky, Sweet Taste w/Hints of Acid and Berry
Clear Protein Beverage | ULTRA | Clean, Berry Flavor & Little Astringency with High Absorption
Frosted Teddy Bears | PRIMO | Flavorful Vanilla, Berry & Chocolate Yogurt Covered Snacks
IFT FIRST Food Expo Schedule for 2022
Monday, July 11 – Wednesday, July 13
10:00 a.m. – 5:00 p.m. (4:00 p.m. on Wednesday, July 13)
Explore Supply Chain and Formulation Solutions
The IFT FIRST Food Expo presents an ideal opportunity to explore ways to expand your supply chain options and contingency plans. In a time when supply chain disruptions and transportation costs have escalated, it's important to find reliable and price-stable ingredient solutions.
Maintaining clean labels is another formulation challenge, but IFT FIRST is emphasizing going a step further by promoting sustainability. Which ingredients are the most earth-friendly? Whey protein is considered among the most sustainable proteins on the market, having less impact on the environment than all plant proteins.
In regards to supply chain issues and price volatility, whey protein is also highly desirable. Its readily available supply helps food manufacturers know it will show up at their facility when needed. And, unlike eggs, butter, milk, cream and other fresh ingredients, whey protein's price won't experience price volatility.
What matters most, however, is whether whey protein powders can deliver superior flavor and functionality. Grande Custom Ingredients Group has developed numerous functional whey proteins to address various food challenges in the industry. When you attend IFT FIRST booth #S3632, you'll see (and taste) firsthand just how versatile it can be.
Functional whey protein ingredient examples include:
Want to get a head start by learning about the latest trends before IFT? Watch our Consumer Food Trends and Market Response Webinar below featuring the latest consumer data. What are the top eight things consumers want to eliminate from their diets? What are the top five health positioning claims across all food and beverage categories? Click below to watch.
We hope to see you in Chicago! Can't make it? Contact our food science team to discuss opportunities and address your biggest formulation challenges.