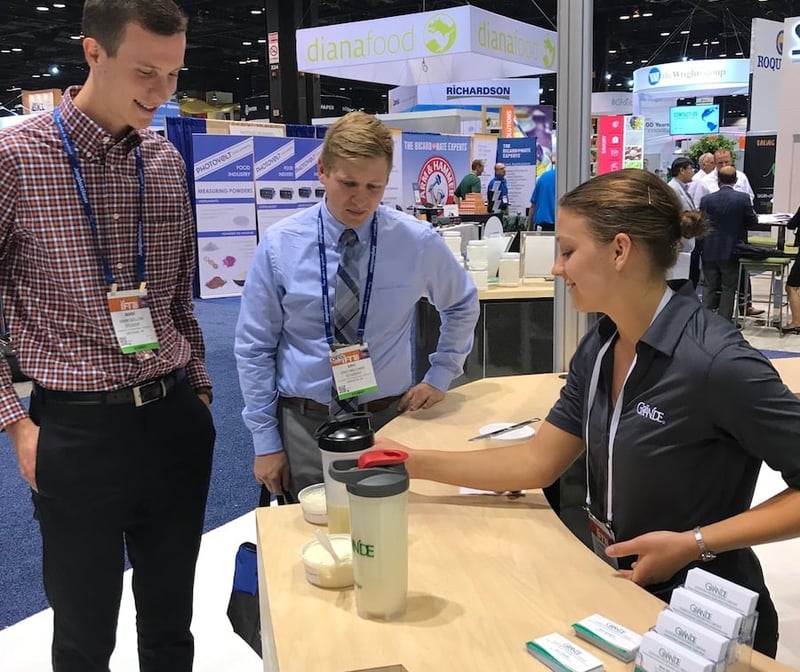 The Institute of Food Technologists (IFT) will hold its 2019 IFT Annual Event and Food Expo June 2–5 in New Orleans at the Ernest N. Morial Convention Center. More than 17,000 attendees from around the globe are expected, including food technologists, R&D professionals, equipment manufacturers, ingredient suppliers, buyers, policy makers, scientists and innovators in the food and beverage industry.
IFT19 is where the most talented and creative minds in the science of food come together to collaborate, learn, network and be inspired. We'll be there. Will you? Here's a preview of what you can expect.
Feed Your Future — IFT19 Theme
While food manufacturers focus on feeding the world, this year's IFT convention will focus on feeding the future of those in the food industry. The 2019 theme, Feed Your Future, highlights this focus and provides opportunities for industry professionals to strengthen their networks, business, innovation and curiosity.
Featured presentations and dynamic programming emphasize issues that will impact the food industry and offer solutions to address the many challenges that await. Over 100 scientific sessions by world-class speakers will address topics including:
Overcoming Clean Label Challenges in the New Trust Economy
Shelf-Stable, Healthy, Convenient Foods in the Global Marketplace
Formulating for All Ages: Creating Food and Drink as Ongoing Wellness Solutions
The Future of Food – Innovation, Commercialization, Supply Chain
And much more
Feed Your Curiosity at the Food Expo
Want to glean ingenious ideas and get introduced to products, technology and ingredient solutions that can give your company a competitive advantage? A highlight of the event is the massive exhibitor showcase featuring more than 1,000 companies that design products to address the latest global food trends.
The IFT Food Expo is the industry's largest collection of food industry innovators under one roof, including ingredient, food safety & quality, technology, equipment, processing and packaging suppliers.
Be sure to join us at booth #4149 where we'll provide delicious samples incorporating our functional whey protein products and answer questions on how to overcome your toughest formulation challenges.

Food Expo Dates and Times
Monday, June 3 • 10 am – 5 pm
Tuesday, June 4 • 10 am – 5 pm
Wednesday, June 5 • 10 am – 4 pm

Back to the Future?
What many food manufacturers will discover at IFT19 is that feeding the future in today's market will require many of them to look back at the past. Even though science has provided numerous advances in the food industry, many manufacturers are moving away from artificial ingredients and returning to traditional, all-natural sources for their formulations.
Familiar ingredients such as milk, cream, cheese and eggs have once again found favor among consumers, and manufacturers are responding accordingly. A return to traditional ingredients is proving to be a challenge for many food technologists, however, due to high costs, high fat and limited shelf life. Yet the demand for clean labels and ethical sourcing forces them to formulate with natural ingredients or lose market share.
One traditional ingredient that consumers trust on ingredient labels that can overcome these challenges is whey protein, which is derived from the cheesemaking process. In its all-natural concentrated, dried form, whey protein overcomes the challenges of using fresh dairy and eggs while delivering the same benefits, consumer appeal, functionality and improved nutritional value.
Grande Bravo® functional whey protein is being leveraged by global food manufacturers in a variety of nutritional and low-fat applications including soups, sauces, dips and dressings, bakery, confections, frozen ice cream and novelties, and more.
See how easy it is to include this innovative ingredient in your application with our formulation tip sheet below. And, if you're attending IFT19, be sure to stop by our booth to meet our team and get a taste of how versatile and delicious products containing whey protein can be. Can't make it to the event? Reach out to discuss the opportunities.