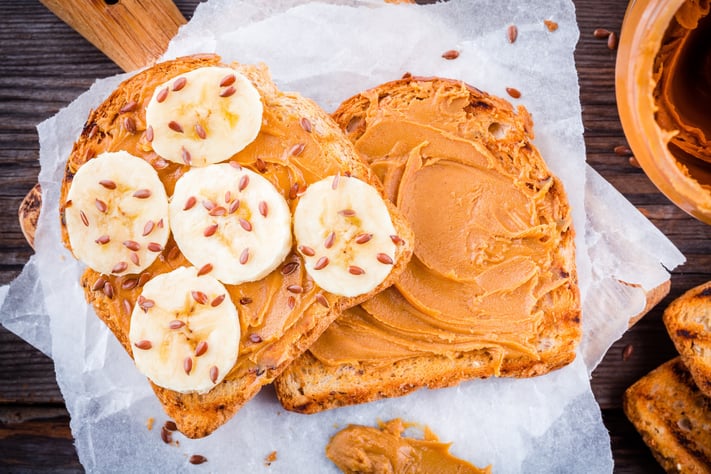 If you haven't noticed the growing variety of nut and seed butters on the market, you haven't been paying close enough attention. Protein is the hottest trend in the food and beverage industry, and today's health-conscious, on-the-go consumers are looking at new peanut butter alternatives to give them the same protein-rich spread, and they're finding it in almond, sunflower and cashew butters, to name just a few.
Not only are these butters typically rich in protein, but they're convenient, too. Used as spreads on sandwiches or for dipping vegetables (or even fruit), butters can easily be transported and eaten on the run.
Here are some statistics that demonstrate more about the nature of the trend:
Unlike jams, jellies, butter, and margarine, seed and nut butters naturally contain "good-for-you" fats that have been shown to contribute to heart health, help reduce the risk of heart disease and type 2 diabetes, and even lower the risk of obesity, despite having a fairly high fat content (2 tablespoons of a seed or nut butter contains, on average, 16 grams of fat).
As more and more food manufacturers are promoting their products' protein levels to capture consumers' desire for healthy snacks, what it's going to take to truly stand out from the crowd today is having higher levels than competitors. While the fat content of nut and seed butters may be a concern for many, on average they contain a lot of protein – 8 grams of protein in every 2 tablespoon serving. Still, this has left some manufacturers asking if there are ways to "balance" nut butters' fat content with an even greater protein content. And the answer is yes.
Whey Protein Crisps and Whey Protein Isolate Whey protein isolate (WPI) can be added to creamy nut and seed butter applications to fortify the protein content while maintaining a clean, neutral flavor (and clarity). In other words, the texture, taste and appearance of the product won't be compromised in any way. The essential amino acids in whey protein are the highest levels of Branched Chain Amino Acids (BCAAs) from a natural food source, so adding these to nut and seed butter applications improves the nutritionals with what's often referred to as the "gold standard" protein.
For crunchy nut and seed butter applications, like snack, breakfast and protein bars, whey protein crisps are a great way to boost protein levels (while adding an appealing, crispy/crunchy texture consumers are looking for). Grande Custom Ingredients Group's WPCrisp® whey protein crisps are an excellent dairy-based protein source that complement the taste of an application's primary ingredients, and compare favorably to rice, soy and pea protein crisps.
As nut and seed butters – almond, sunflower, peanut, cashew and more – gain in popularity, manufacturers will look for ways to capitalize on the craze, with R&D departments putting effort into developing new products and identifying viable applications. Incorporating functional whey proteins like Grande Ultra WPI and Grande WPCrisp is a practical way for manufacturers to add even more protein – and give themselves a distinct competitive advantage in a hot market.
Looking for additional information about current trends? Reach out to the experts on our team of dedicated food scientists to find out how you can use high quality whey protein ingredients to enhance your applications, or take a look at our Industry Insights Whitepaper. In it you'll find a helpful Protein Quality Comparison Chart that highlights the benefits of whey protein crisps compared to those made with soy and pea. Just click below to access.