For food formulators who need help formulating low-fat, decadent desserts, frozen desserts, baked goods, frostings, coatings, confectionery, and other sweet & frozen applications, we offer several whey protein products that can reduce fat while maintaining taste and texture, reduce costs by replacing high-cost ingredients, and provide the authentic taste and creamy texture of yogurt.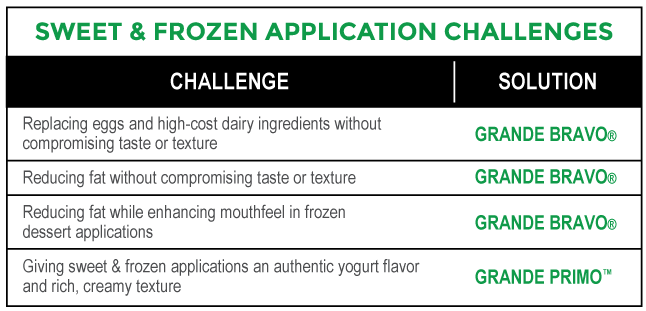 Grande Bravo®
In rich, decadent applications, Grande Bravo's unique functionality and clean taste can reduce or replace expensive, high-fat ingredients like eggs, cream cheese, NFDM, sour cream, heavy cream, and butter while maintaining texture and mouthfeel.
Features & Characteristics
Reduces cost when you replace volatile, high-cost ingredients
High-quality, safe replacement for eggs
Reduces fat and calories
High viscosity and superior water-holding capabilities
Clean, complementary dairy flavor
Heat and acid stable
Freeze-thaw stable
---
Grande Primo™
In sweet & frozen applications, Grande Primo provides a cost effective and convenient alternative to fresh yogurt while adding an authentic yogurt taste and rich, creamy texture.
Features & Characteristics
Authentic yogurt taste
Water-holding functionality provides a rich, creamy texture
Cost-effective and convenient alternative to fresh yogurt
Shelf-stable and more convenient storage and handling vs. fresh yogurt
Freeze-thaw stable
Grande Primo Y100 meets the Code of Federal Regulations (CFR) for lowfat yogurt prior to drying