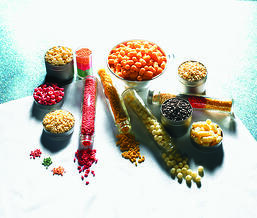 It's no secret that the economic downturn has affected how people spend and save their money – especially when it comes to grocery shopping. In fact, 85% of global customers indicate rising prices affect which groceries they buy. With tighter budgets, consumers are interested in saving money in any way possible, including eating more meals at home and buying cheaper cuts of meat, canned and frozen fruits and vegetables, and more private label brands. They know these little cost savings add up, and saving a few dollars here and there at the grocery store can go a long way.
To appeal to these cash-conscious consumers, private label brands have started to rebrand their products with sophisticated packaging and flavor selections. Just because consumers are looking to save money, doesn't mean they're not interested in buying a quality product, and the new packaging puts more emphasis on private label's bang-for-your-buck value.
While many private label brands have overhauled their packaging to emphasize their products' benefits, many more are starting to go one step further; in addition to enhancing the looks of their packaging, food processors are using better ingredients to improve their products' health benefits. Now, when consumers see those products on the shelves, they'll instantly be drawn to their low-cost, healthy ingredients, and high-quality benefits.
According to Joanna Clifton, a market analyst with Innova, these changes benefit both grocery stores and consumers. "Obviously hard economic times have continued for a lot of consumers since 2008 until now, so they're looking for respite and pleasure that doesn't cost excessive amounts of money in the form of food and beverage," Clifton said. "[These changes] are a small fix to give consumers a little more value with their own brands, and they've done this without neglecting their premium lines."
One example of how this is possible is through the use of dried yogurt products like Grande Primo™. Using Grade A skim milk, Grade A whey protein concentrate, and active yogurt cultures, we use a special heat-treating and drying process to create freeze-thaw and shelf-stable products that give food manufacturers the ability to add authentic yogurt flavor and texture to a wide variety of applications – without the cost or perishability of using fresh yogurt. Grande Primo™ is the perfect low-cost yogurt alternative to use in dips, dressings, smoothies, and coatings, and Grande Primo™ Y100 even meets the Code of Federal Regulations (CFR) of lowfat yogurt prior to drying. Its excellent water-holding functionality provides a rich, creamy texture for your product, and consumers won't notice a difference.
To learn more about how Grande Primo™ can help improve your food and beverage quality, please download our free Grande Primo™ Product Information Sheet to read all about its different benefits and specific application uses. Likewise, please talk to one of our food scientists or visit our Products Page to learn more about our other innovative products that can help improve quality while also reducing costs.