Authentic Yogurt Taste and Texture Without the Perishability of
Fresh Yogurt!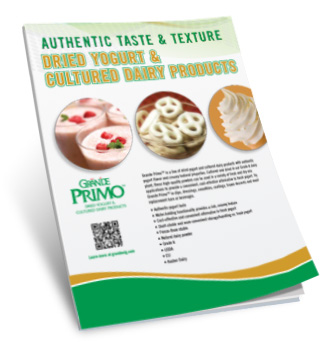 By 2017, the U.S. yogurt market is expected to reach a whopping $9.3 billion. To help food and beverage manufacturers capitalize on consumers' increasing demand for more yogurt, we offer Grande Primo™ as a convenient, cost-effective way to add authentic yogurt taste and texture to your products. Our dried yogurt and cultured dairy products are perfect to use in dips, dressings, smoothies, and coatings, and feature many benefits, including:
Water-holding functionality for creamy texture

Shelf-stable for convenient storage

Freeze-thaw stable

Natural dairy

Certified USPH Grade A

Kosher dairy

USDA

EU
Our dried yogurt products are made with fresh Grade A skim milk, Grade A whey protein concentrate, and active yogurt cultures, allowing us to create some of the finest dried yogurt and cultured dairy products available. To learn more about how Grande Primo can enhance your food and beverage products, fill out the form to download our free Grande Primo Product Information Sheet.
Download Information Sheet