A Line of Innovative Ingredients to Help Solve Your Formulation Challenges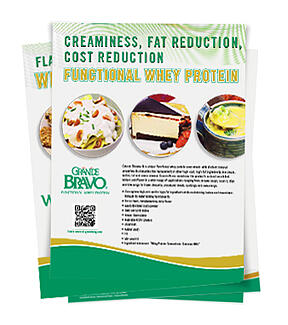 Grande Custom Ingredients Group's innovative dairy-based ingredients help food and beverage manufacturers to solve unique challenges in a wide variety of applications. Whether you're formulating beverage applications, creamy applications, snack/nutrition applications or even sweet or frozen applications, we have a product that will provide a distinct value to your formulation.
Our product information sheets will give you a complete understanding of each of our products:
Grande Bravo® Information Sheet

Grande Primo™ Dried Yogurt & Cultured Dairy Products Information Sheet

Grande Ultra® Whey Protein Isolate (WPI) Information Sheet

Grande WPCrisp® Whey Protein Crisp Information Sheet

Commercial Whey Products Information Sheet
Fill out the form to learn more about our products.
Download Product Info Sheets