Download our Grande Bravo
®

Product Sheet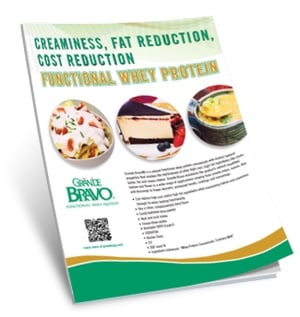 With today's consumers demanding healthier, more functional foods and beverages, now's the right time to start improving your own product line. And Grande Bravo whey protein concentrate is the ideal solution to help you do just that.
This functional whey protein concentrate is the perfect replacement for fresh eggs and other high-cost, high-fat dairy ingredients like cream, butter, fat, and cream cheese – enabling food manufacturers to cut costs AND calories in a variety of applications. Its unique water-holding functionality also helps maintain your product's natural mouthfeel, texture, and flavor, so consumers won't even be able to notice a "low-fat" difference.
By downloading our
Grande Bravo Product Sheet
, you'll learn all about this unique product's benefits, functional properties, and applications – giving you crucial information to help solve your food formulation challenges. Download your free copy today by filling out the form!