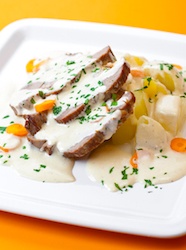 Attention food formulators: will you be attending the Research Chefs Association Annual Conference in Denver, Colorado next week, March 8-11? More than 1,200 of the top food product development professionals will be attendance—and Grande Custom Ingredients Group® will be there to showcase our functional whey protein products.
As Innovators of Dairy-Based Food Ingredients™, our line of natural whey protein products includes Grande Bravo® functional whey protein, Grande Ultra® whey protein isolate (WPI), Grande WPCrisp® whey protein crisp, and Grande Primo™ dried yogurt & cultured dairy products. All of our products are made using a proprietary production process, and can be used to solve a variety of application challenges, including reducing fat and calories, reducing costs, fortifying protein, improving texture, and cleaning up labels.
Those who attend the expo on Thursday, March 10th can stop by and visit us at Booth # 319P where we'll have samples of our products on hand, along with helpful information about how our products can help you meet your formulation goals. We'll also be serving a pan-seared flat iron waygu steak with a creamy green peppercorn sauce and a hot 3-cheese beer dip made with our Grande Bravo® functional whey protein.
Want a firsthand look at how our natural whey protein products can reduce the fat and calories of an application while still maintaining the same great flavor and texture? Come see – and taste – for yourself at Booth #319P!