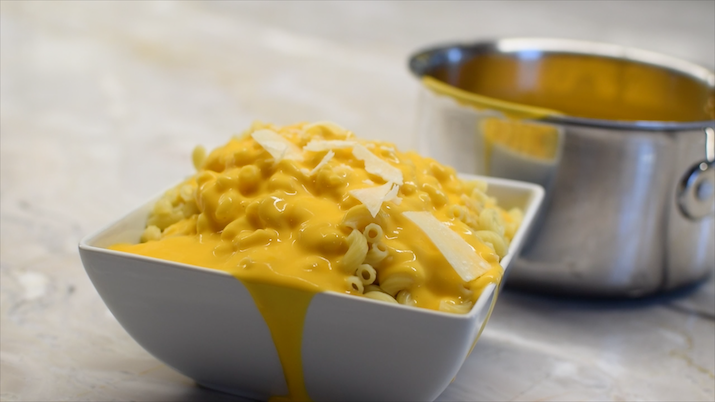 Macaroni and cheese has maintained its position on America's top ten comfort foods list for decades. Crayola even named one of its orange crayon colors after this perennial favorite! Millions of adults and children alike consume mac and cheese every year, yet many are looking for ways to indulge more responsibly, and are paying closer attention to labels — avoiding foods with artificial ingredients and high fat and calories.
Formulating a cheese sauce to include reduced fat and calories has been a challenge for food manufacturers, often resulting in undesirable texture, viscosity, pooling, off flavors and other unappetizing characteristics. Finding a natural solution that also saves on costs complicates things even more.
A Natural Solution for Low Fat Mac and Cheese
Watch our quick, step-by-step macaroni and cheese recipe video below to see how easy it is to reduce fat by 30% in a typical cheese sauce application when you include Grande Bravo® functional whey protein. Not only does it provide a rich, creamy and refined texture that clings beautifully to pasta, it does so at a cost savings to food manufacturers.
Additionally, read about one restaurant that sought the help of Grande Custom Ingredients Group to reformulate its macaroni and cheese in our case study. The new formulation that used Grande Bravo was well received by patrons who couldn't tell the difference from the original recipe, and the operator felt strongly that the new version (which saved 15-20% in ingredients costs) was superior to the original that contained full fat, cheese and a high caloric content.
Discover how you can experience similar results in your applications containing cheese or other premium dairy ingredients by including Grande Bravo in your formulations. Contact the food scientists at Grande Custom Ingredients Group today to explore the possibilities.