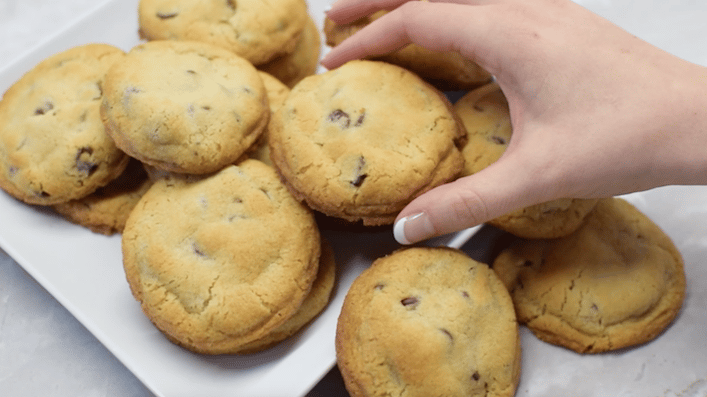 Many food manufacturers have their tried-and-true recipes for chocolate chip cookies but, because of volatile and unstable egg markets in addition to costly refrigeration and FDA requirements, some are looking for ways to reformulate without using this staple ingredient (and without losing the signature flavors and rich, chewy textures their chocolate chip cookies are known for).
Some have tried an alternative to eggs in their formulations by including artificial gums and starches. In addition to being a poor replication of the real thing, increasing consumer attention being paid to ingredient labels and nutritional information can make artificial egg substitutes an untenable choice.
An all-natural and cost-effective alternative to eggs is Grande Bravo® functional whey protein. Not only can it help maintain clean labels, it can improve nutrition and serve as an excellent replacement for whole eggs while still maintaining excellent flavor, texture and cell structure.
Watch our latest step-by-step recipe video, "Chocolate Chip Cookies with Grande Bravo" to see how easy it is to incorporate functional whey protein as a complete replacement for eggs. You'll wish you could reach through the screen to grab the delicious results...and a tall glass of milk.
In addition to chocolate chip cookies, Grande Bravo can serve as a replacement for eggs, butter, cream or other dairy products in many desserts or confections. It's also suitable in a wide variety of other applications including spreads, soups, dips, sauces, coatings and much more.
Reach out to the team of food scientists at Grande Custom Ingredients Group to explore the possibilities. We'll help customize a solution for your specific application.