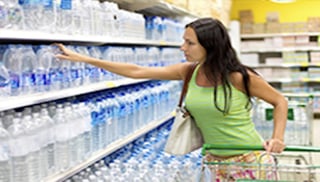 According to a recent report from Canadean, bottled water is expected to overtake carbonated soft drinks as the #1 packaged beverage of choice among U.S. consumers by the end of this year, thanks to the continued desire among consumers to live healthier lifestyles. The report predicts that packaged water consumption will reach over 233 billion liters in 2015, whereas carbonated soft drinks (CSDs) are expected to reach 227 billion liters. With bottled water expected to take over as the new favorite among consumers, today's beverage manufacturers have a great opportunity to cash in on consumers' healthier preferences.
To put things in perspective about just how popular bottled water has become over the past several decades, the average American drank 1.6 gallons of bottled water back in 1976. In 2014, however, that figure was closer to 34.2 gallons per person. As Americans have slowly become more aware of the negative health side effects and different artificial flavors and colors, chemicals, and additives associated with CSDs (not to mention the amount of sugar and high fructose corn syrup), there's been a steady rise in bottled water sales over the past few decades.
As more Americans clearly try to avoid CSDs in favor of healthier options, beverage manufacturers should capitalize on the opportunity to create healthy, functional beverages that are low-calorie, sugar-free, and free of any unnatural additives. The flavored and functional water market has grown tremendously over the past few years, and will continue to do so as consumers look for nutritious, convenient beverages.
One way beverage manufacturers can gain an advantage in the growing flavored and functional water market is by using a whey protein isolate to add a natural protein boost to their beverages. More than half of US adults say they want more protein in their diets, and bottled beverages provide an extremely convenient way to meet their protein demands. In fact, Grande Ultra® Whey Protein Isolate (WPI) has been proven to offer the best combination of clarity and flavor across a wide pH range, making it perfect for bottled water applications where turbidity and a clean flavor are crucial.
As you can see, nothing compares to our exclusively patented production process. With more and more consumers turning to bottled water as a healthy alternative to CSDs, Grande Ultra® is the ideal choice for fortifying your drink with protein, while providing a clean, neutral flavor and clear appearance that works perfectly for flavored and functional waters, sports drinks, juices, and other non-CSDs. It is also available instantized and acidified, increasing its convenience in RTD beverage applications.
Want to learn more about how Grande Ultra® WPI can help you create more functional, nutritious beverages? Download our Grande Ultra® WPI Protein Drink Case Study to get a firsthand look at how Grande Ultra® can benefit your specific beverage applications.