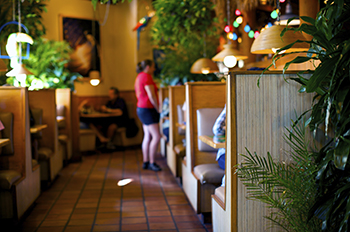 As today's consumers try to make healthier lifestyle choices, restaurants around the country are starting to offer healthier options – even restaurants known for their indulgent menu items. Given their reputation for high-fat, high-sodium menu items, quick-service restaurants were some of the first to revamp their menus with healthier, more functional products, and consumers are starting to take notice.
According to a recent report from Sullivan Higdon & Sink FoodThink titled "QSRs and America's Changing Tastes," researchers found that 58% of consumers say healthy options are important when choosing a QSR, and 61% say that it's possible to eat healthy at QSRs. As consumers seek out healthier, more convenient food options, not only have QSRs been able to modify their unhealthy image, but some have actually taken it one step further and positioned themselves as sources for healthy food! 10 years ago you would've never gone to a fast-food restaurant looking for a healthy snack, but today, many QSRs have entire menus dedicated to lowfat, low-calorie choices.
With quick-service restaurants taking note of the trend, fast casual and casual dining chains have also followed suit. According to a presentation by Doug Benn, the executive vice-president and CFO of The Cheesecake Factory, casual dining chains have a great opportunity to start offering low-calorie menu items – especially given their menu's broad selection. "I think we pride ourselves on being something to everyone," said Benn. "If you want to eat indulgently, you can do that at our restaurants. If you want to eat ethnic food, you can do that at our restaurant. We have a gluten-free menu so you can be gluten-free. Or you can order off the SkinnyLicious menu, which is done very much in Cheescake Factory style."
With casual dining chains offering more menu items than QSRs, today's consumers will only be disappointed if you can't provide enough healthy options. Even restaurants like The Cheesecake Factory – whose entire image was built around being an indulgent restaurant – have introduced more lowfat, healthy options, and they've done it with great success. And while you might think that a lot of work goes into creating these new lowfat menu items, sometimes all it takes is a product reformulation.
For casual dining chains looking for an easy way to create more functional, nutritious menu items, look no further than our Grande Bravo® and Grande Primo™ whey protein products. They're the perfect replacement for high-fat, high-cost dairy ingredients, and our exclusive production process ensures the highest combination of food quality and safety available.
Using our Grande Bravo® whey protein concentrate, restaurants can create lowfat variations of their sauces, salad dressings, dips, and desserts, all while adding a protein boost and improving the water-holding functionality and texture.
With our Grande Primo™ dried yogurt and cultured dairy products, restaurants can add the creamy taste and texture of yogurt to their spreads, dips, and frozen desserts. Our Y100 formulation even meets the Code of Federal Regulations (CFR) for lowfat yogurt prior to drying, making it the perfect cost-effective alternative to fresh yogurt.
For more information on how our whey protein products can help casual chain restaurants create more lowfat menu items, check out our applications page or talk to one of our food scientists today! While you're at it, visit our Resources Page to find several examples of how our protein products have been used in real-life applications.