If you've been following the latest consumer food trends in the United States, it would have been hard not to notice the growing amount of protein-fortified foods in our nation's grocery stores. The consumer demand for protein is at an all-time high, and food manufacturers everywhere are developing new protein-rich products to meet it. In fact, according to recent findings by market research firm Innova Market Insights, nearly 3% of all global food and beverage launches between March 2013 and March 2014 were marketed with a "high-protein" or "source-of-protein" positioning! And though 3% might not seem like that much, when you consider the fact that these are global statistics from every food category, 3% is actually quite staggering.
As consumers make an effort to be more health conscious about the foods and beverages they consume, they've started to do more research about the things they should and shouldn't be eating. They're aware of the dangers of sarcopenia, and they also understand the numerous health benefits that protein provides. Food manufacturers have been quick to catch on to this, and are now promoting their pro-protein positioning for all to see. And while nearly every food manufacturer can tell you that protein-fortified foods are one of the most popular trends in recent history, what they can't decide on is which type of protein to use.
Though certain types of proteins are clear-cut favorites in some industries (e.g. whey protein accounts for 36% of patents in the sports nutrition category), today there are literally hundreds of different protein alternatives for food manufacturers to choose from. Although vegetables lead the list for the number of published protein patents in food and beverages, whey has risen to 3rd place – all the way up from 8th in 2012. Likewise, nut and seed protein patents have grown from single digits in 2012 to more than 200 in 2013. There are even patents for algae-derived proteins!
With so many different protein options available, it's easy to get overwhelmed by your decision to choose one. Different proteins offer different levels of quality and digestibility, as well as different taste and textural properties, so it's important to choose one that fits your product as closely as possible. If only there was a way to compare them all…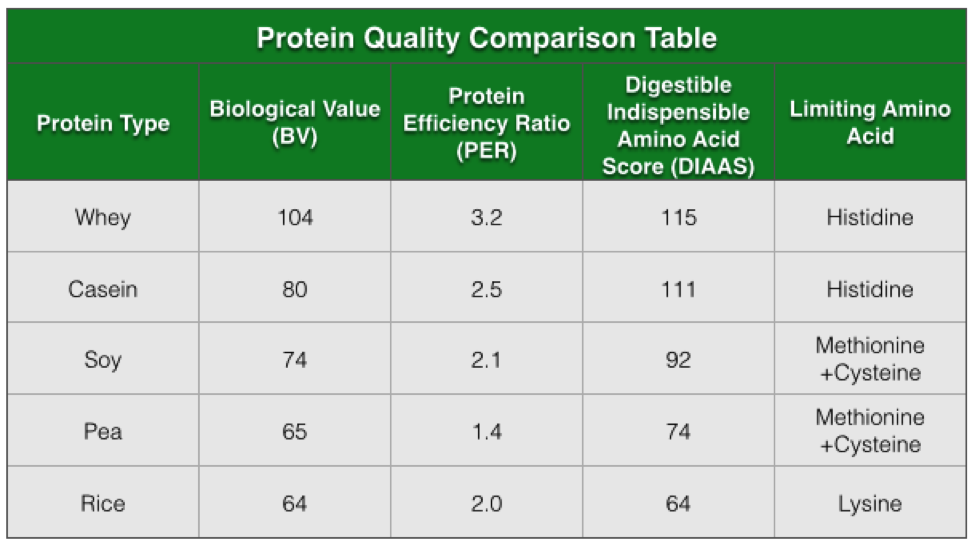 Looking at the protein comparison chart above, it's easy to see that whey is the clear-cut favorite. No alternative protein source comes close to whey's quality, and it's like comparing apples and oranges in terms of taste. Vegetable proteins are known to leave a distinct bitter aftertaste, whereas whey's clean, neutral taste can be formulated to fit specific flavor profiles (i.e. creamy, sweet, tangy, etc.) or remain neutral.
At Grande Custom Ingredients Group, we offer some of the highest quality whey protein products available. Not only is our milk sourced from some of the best dairy farms in the country, but our proprietary whey-processing process and state-of-the-art processing facilities are also among the best in the industry as well. That being said, here's a rundown of our whey protein products:
Grande Bravo® Functional Whey Protein
This functional whey protein concentrate is the perfect replacement for high-fat, high-cost dairy ingredients, and it mimics the functionality of these ingredients so well that consumers won't be able to tell they're eating a low-fat version of your product. Rather than creating a one-size-fits-all concentrate to complement your original formulation, we created a variety of flavor profiles to better match your original product's taste and texture.
Grande Ultra® Whey Protein Isolate (WPI)
Our patented whey protein isolate is an industry leader in taste and clarity. This allows you to create a ready-to-drink beverage that's fortified with protein, while achieving a clean, neutral flavor and best turbidity available over a wide pH range, up to 3.5.
Grande Primo™ Dried Yogurt & Cultured Dairy Products
Looking to add a protein boost to your dip, dressing, coating, or smoothie? Grande Primo can give your product that creamy mouthfeel and yogurt flavor consumers love, all without the perishability of fresh yogurt.
Grande WPCrisp® Whey Protein Crisps
If you're looking for a higher-quality substitute for your corn, rice, or soy protein crisps, our WPCrisp is a great solution. WPCrisp can increase the protein content and add crunchy texture in a wide variety of food applications (e.g. nutrition bars, snack mixes, cereals etc.), all while providing a clean, complementary flavor to the application's primary ingredients.
For more information about how these products can be used to add a protein boost to your current offerings, please check out our applications page or contact one of our food scientists today!