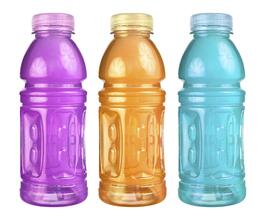 If you haven't noticed, food manufacturers everywhere have been hopping on the protein bandwagon. With more and more consumers actively searching for foods with higher protein content, food manufacturers are finding new ways to re-formulate their products and redesign their packaging to put a bigger emphasis on protein. And while there has been an increasing amount of products starting to advertise protein more recently, one food category has been a target for protein-enriched products for years. We're talking, of course, about the beverage industry.
Though many people stereotype protein-enriched beverages as sports drinks, Rory McCarthy, Senior R&D Scientist at Grande Custom Ingredients Group, explains that actually isn't the case. "Thanks to all the modern resources available these days, more consumers know about the benefits of whey protein than ever before. They also understand that its benefits apply to more than just athletes," says McCarthy. Nowadays, consumers are looking for beverages with increased protein levels to not only help with muscle growth and recovery, but also things like satiety and weight management.
But as much as consumers are interested in the health benefits, he also explains that they're looking for something that's easy to drink on the go. "Beverages are great because they make it easy to consume protein. Ready-to-drink beverages can be consumed on the go, with plenty other ready-to-mix products available as well." Not only do consumers want a product with great health benefits, they also want something that caters to their busy lifestyles and tastes great.
In addition to the health benefits and on-the-go drinkability, however, one beverage characteristic that consumers are really looking for is beverage turbidity. As McCarthy explains, "consumers have a very specific idea of what beverages should look like. They've been conditioned to favor beverages with more clarity, and using certain protein ingredients for your product can create a cloudy beverage." While it's true consumers are calling for more protein-enriched beverages, if you use the wrong whey protein isolate you could very well jeopardize your beverage's appearance and salability.
Fortunately, however, Grande Custom Ingredients Group has developed one of the highest-quality whey protein isolates (WPI) available: Grande Ultra®. Using our patented production process, we've created a line of products specifically geared towards enhancing your beverages. Our Ultra WPIs can be used in applications across a wide pH range, and offer the cleanest taste and best clarity on the market. Don't believe us? Just look at how we stack up against our competitors in a test of clarity: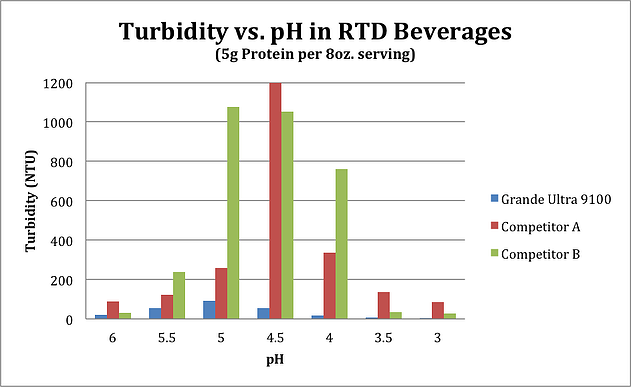 As you can see, there's no comparison. With more and more consumers turning to beverages as an easy way to increase their protein intake, you definitely need to consider the needs and interests of your target consumers. By choosing Grande Ultra as your WPI, not only will you be able to fortify your beverages with whey protein, but they'll also have the cleanest taste and optimal appearance. For more information about the benefits of Grande Ultra in your product applications, please talk to one of our food scientists today!