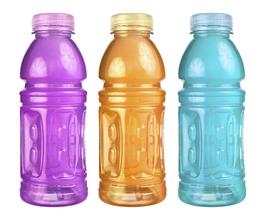 With consumers becoming more and more health-conscious over the past few years, it should come as no surprise that the sports drink industry has seen considerable growth during that timespan as well. From 2007-2012, total sports drinks sales grew by 20% in the U.S., and reports are estimating 2013's retail sales at a whopping $7.4 billion.
David Sprinkle, a research director at market research firm Packaged Facts, attributes the growth to several reasons. "Sports drinks now are geared more broadly toward the nutritional needs of physically active consumers before, during, and after demanding exercise, and they are formulated with ingredients that range far and wide beyond the salts and sugars found in the traditional versions of sports drinks."
As the consumer demand for healthier, more dynamic sports beverages has increased, so has drink manufacturers' supply of new and improved products. And if current trends continue to be an indicator of what's to come, it's believed that the sports drink industry could grow to more than $9.3 billion dollars in 2017 – a cumulative growth of 34.1% since 2012!
However, as the sports drink market becomes more saturated with different beverage options, manufacturers will be forced to create new product formulations and innovations that meet their consumers' specific and varying demands. One way companies are doing this is by fortifying their drinks with whey protein.
Whey protein contains the highest amount of the essential amino acids that are directly linked to muscle protein synthesis – a natural process that reduces muscle inflammation and builds muscle tissue after a tough workout. By adding a whey protein isolate (WPI) to their beverage's formulation, manufacturers can take these wonderful health benefits and incorporate them into their pre-existing sports drink formulation.
As a matter of fact, Grande Custom Ingredients Group has developed one of the highest-quality whey protein isolates in the world: Grande Ultra®. Grande Ultra WPI is produced using an exclusive patented process that results in a whey protein isolate that can be used in applications across a wide pH range up to 3.5 with a clean and neutral flavor that is considered the finest available. Grande Ultra WPI is available in instant and non-instant forms to meet the needs of many different beverage applications and production processes. As shown in the chart below you can see exactly how well Grande Ultra WPI stacks up to its competitor's clarity: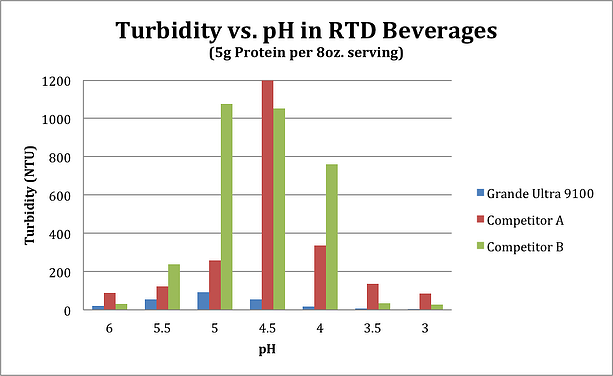 In a test to sample the beverage's turbidity, samples made with Grande Ultra 9100 showed exponentially better clarity when measuring the "cloudiness" of its appearance. This makes it perfect for use in clear, Ready-to-Drink (RTD) flavored sports drinks and even water.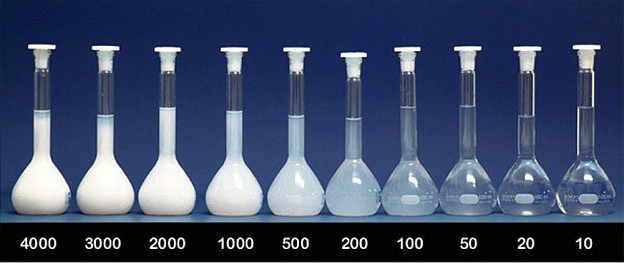 Scale of Turbidity (Measured in NTUs)
Nowadays, when 57% of consumers say they're trying to include more protein in their diets, there are several great reasons to add a WPI to your sports drink formulation – especially Grande Ultra. Not only will it fortify your beverage with the numerous health benefits of whey protein – perfect for before, during, and after workouts – but its clean, neutral taste and superior clarity make it ideal to use in any beverage application. To learn more about how you can add a powerful protein boost to your sports drink, talk to one of our food scientists today!